Nigerian gospel music has come along way from the Panam Percy Paul epoch, and the evangelism of the gospel through mainly native tongue music. Like any other genre, Nigerian gospel music has evolved with influences from pop and rock and jazz, evolving into different soundscapes.
The gospel artistes (Ministers) have been mascots of Nigerian music, making collaborations with many international artists and the strides they continue to make is worthy of mention.
Here are the top gospel artistes for July:
10. Prospa Ochimana
Nigerian recording artiste, Prospa Ochimana features on our list this month as he continues to make a name for himself in the gospel industry. The 'Ekwueme' crooner stars in the newly released live album from Michael Stuckey.
Former lead singer for Ricky Dillard & New G, Stuckey is known for his frequent travels to Africa and was there most recently to record the beautiful songs on his just-released CD "Live in Ghana." "Live in Ghana" was recorded in Accra at The National Theatre of Ghana and featured the stunning vocals of our very own Prospa Ochimana alongside many others.
---
9. Aity Dennis
Aity Dennis started as a teacher and a TV producer but has since found her passion for gospel music. The Nigerian gospel recording artist released a new music video titled "Victory In Your Name" in celebration of her birthday on July 13. The global pandemic and current climate inspired the enigmatic track. Aity uses the song to remind people to seek solace in God as He provides peace in storms and secures victory.
---
8. Onos Ariyo
Onos Ariyo, legally named Onoriode Ebiere Ariyo has continued to create buzz ever since her critically acclaimed song "Alagbara" which was written & produced by Nigerian Music Producer Wilson Joel. She recently featured in TY Bello's spontaneous worship sessions, performing a song titled "Abbas Lullaby." She collaborated with gospel singer Pita in a melodious new record titled "Goodness & Mercy" as well.
In September 2018, Ariyo was listed in the Global Top 100 Most Influential People of African Descent (MIPAD). 
---
7. Agbani Horsfall
Gospel musician and songwriter, Agbani Horsfall launched her virtual debut album, "Spirit of the Living God" this month. The artiste collaborated with other gospel musicians like E-Topz and Soty in her new album. She expressed the wish to work with artists like Mercy Chinwo, Praiz, Tim Godfrey, Sinach, Nathaniel Bassey and others. She also asserted the need to use her music as "a medium through which God speaks to people."
The album "Spirit of The Living God," has eight tracks and is expected to give Horsfall more exposure.
---
6. Nathaniel Bassey
Popularly known for his songs "Onise Iyanu," "Imela" and "Olowogbogboro," Nathaniel Bassey is still creating waves with his music and his performances. The singer performed in the seventh edition of the House on The Rock (HOTR) annual Word Conference that held on the 19th of July.
The virtual conference themed; 'Exceeding Grace in Uncertain Times,' had renowned artists like Tye Tribbett, Travis Greene and Nathaniel Bassey perform for the audience who joined in on the conference virtually.
---
Award-winning singer and photographer, Toyin Sokefun-Bello, popularly known as TY Bello has kept Nigerians entertained during the pandemic with her constant release of episodes in her spontaneous worship series, featuring several notable guests. She released a new single this month titled "I will not be moved," showcasing it to the world in one of her spontaneous worship sessions uploaded on IGTV and YouTube.
The singer has collaborated with the likes of Tope Alabi, Pastor Emmanuel Iren etc.
---
4. Dunsin Oyekan
"Worship is more than a song," Dunsin Oyekan says in a statement about his newest song, 'More than a song." He explains that he intends to communicate that to live in holiness, experiencing all that delights God's heart is the genuine expression of worship. He released the track this month alongside an official music video. Oyekan, also known as "The Eagle" is known for his contemporary worship music and his versatility as an instrumentalist.
---
Osinachi Joseph, popularly known as Sinach has come a long way since her hit track "I know who I am." The Loveworld Worship Leader has been smashing world records and making Nigerian fans proud with her Christian song "Waymaker," as she recently became the first African artist to top the Billboard Christian Songwriters chart; garnering more than 100 million views for the visuals of WayMaker on YouTube.
Nothing seems to be stopping her strides as Sinach has newly released an official live performance music video titled "Always Win." The record features Martin PK, Jeremy Innes, Cliff M, Farlon Lyte M, Brian Kim, Zefanate Worship and Soraya Moraes.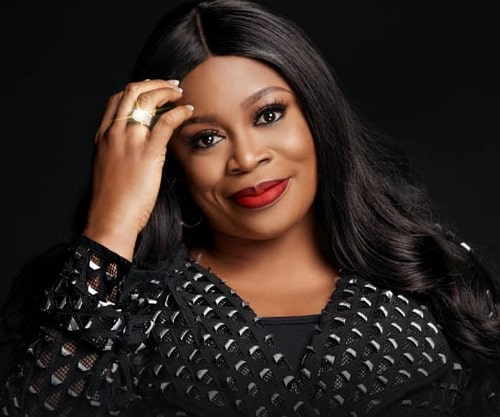 ---
A notable consensus amongst Nigerians everywhere is that gospel singer, Tope Alabi wields the ability to pull at the heartstrings of even the coldest man with her music and melodies.
The singer has been doing just that- pulling at the heartstrings of many with the released music tribute to the late philanthropist, Pastor Ibidunni Ighodalo. Nigerians were shaken; grieving the loss of Mrs Ighodalo and Alabi put the words in the hearts of Nigerians to paper, giving it a voice.
She ministered songs at the Global Worship Concert in honour of the Late Pastor Ibidunni Ighodalo's 40th birthday. The songstress and songwriter had also performed in the virtual Morayo Praise Party that was broadcasted on Instagram live.
---
1. Mercy Chinwo
Port Harcourt-born Mercy Chinwo has been taking tremendous strides in the gospel music industry and has become a gospel artiste in the Nigerian space to reckon with. The fourth born of five children cemented her position in the gospel industry with the notable awards she's gathered unto her shelves.
In 2018, she was awarded the Best Gospel Artiste at the CLIMAX Awards 2018 and at the maiden edition of the Africa Gospel Awards Festival in 2019, she was named a winner in three categories namely Africa Gospel New Artiste of the Year, Africa Gospel Female Artiste of the Year and Africa Gospel Song of the Year.
The sonorous singer has made the month of July her own with the release of her grandstanding sophomore album titled 'Satisfied'. The collection features notable Igbo Gospel singer, Chioma Jesus in the song; "Onememma," and exceptional live performance of Mercy "Excess Love" with JJ Hairston and Youthful Praise.