A carefully thought out and well-executed advert has the power to not only sell your brand to new and existing customers but also leave a lifetime impression on them – which will make them naturally come back again and again —and on everyone involved in the making of said ad.
Ask Nike – whose 30th Anniversary 'Just Do It,' campaign with former NFL star, Colin Kaepernick, caused its stock to soar 5%, adding nearly $6 billion to the company's market value. 
International Breweries, the makers of Trophy beer, appear to have tapped into the art and science of what makes for a memorable ad that has the potential to bring the greatest impact for a brand with its recent 2+ minutes ad titled 'Na who stand by you be your Honourable.'
What the campaign got right
Nigeria's PR experts may differ in their position on the main ingredient for a great advert.
One expert conversant with the power of music and the potential impact of a catchy jingle will swear by getting your jingle right. That expert is not wrong.
Another that is enamoured of the power of storytelling will swear by getting your story right. This one too isn't wrong.
You could hit or miss with either choice, and Trophy knows that – from the look of its advert – and leveraged on storytelling. But they went the extra mile with it and felt for the pulse of the consumer demographic whose attention they are looking to capture.
From the first frame, we are roped into the shared anxiety of Nigeria's unemployed and underemployed population – nearly 50% of the population in total. 
Our main character is attending a job interview with a keen desire to make his life better, but also the understanding that in trying to do this many doors will close in his face if he lacks the right packaging. A battered shoe will lose one a job opportunity however qualified one may be.
He left defeated to meet his honourables and share his disappointment with them over chilled bottles of Trophy beer and they shore him up with encouragement to keep applying, came through for him with a decent pair of shoes to attend his next interview, and another honourable lent him a suit and gave him a ride too.
He got the job – a great one from the look of it – and went out of his way to celebrate with his honourables over a lot of bottles of Trophy beer to solidify their shared memory. Because 'Na who stand by you be your Honourable.'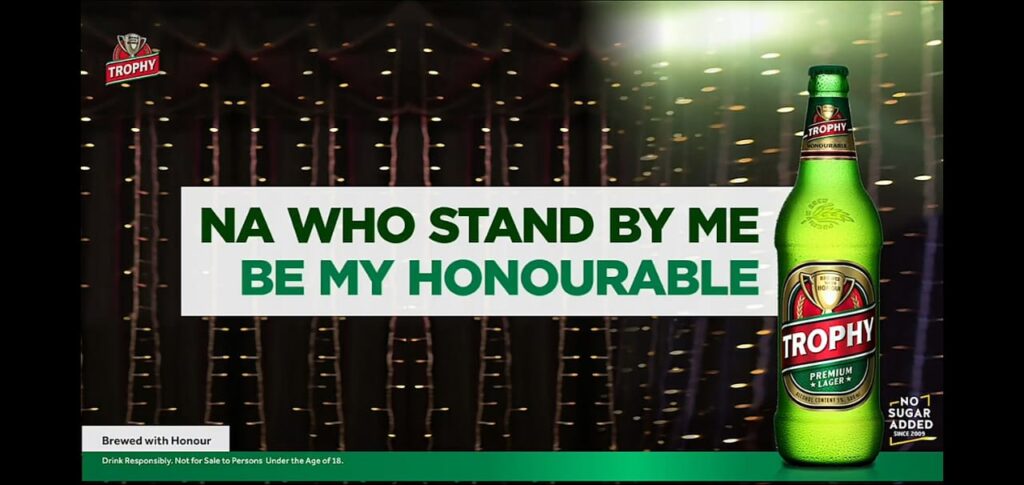 It is a story that could make you want to entrust all your secrets to a bottle of beer.
And it moved the right audience, as well as the actor who played the main role, its over 2 mins length notwithstanding.
All stones thrown into a river ripple, just not the same way
Nigeria's for-TV ad landscape is filled with short and sweet, sunny-side up ads with dancy – or at least catchy tunes that become a lifetime earworm.
If you remember nothing about the particulars of the ad for Mimee Noodles or the noodle itself – which can be said to have slid back in its hold on the conscience of Nigerian consumers – it is near impossible to not be transported by nostalgia when you hear the jingle, 'Boom sha sha,' which the ad introduced.
Unless you weren't old enough to catch it, Royco's all-time favourite ad – whose story will infuriate today if it doesn't trigger a boycott – refuses to leave the collective psyche of Nigeria specifically because it played on the lived reality of many Nigerian families at the time it came out in 1999.
All of these ads take one element or another, work it into something that will stick, then throw in other elements that may or may not stick and hope it does the job. It very often does, as you can recognize from the above examples. And they all have one thing in common, they span about a minute each. Perfect for a commercial break between programmes.
Looking at this shared trait of old ads, from a time when Nigerians sit eagerly awaiting a 3+ hours Bollywood movie to air – a favourite Sunday pastime for many families back then – on NTA, you would think a 2+ minutes ad in the time of information overload will most definitely be a miss. Far from it.
If you were to throw two stones of different sizes, one markedly heavier than the other, into a fast-moving river, both will leave really temporary ripples in the river flow, yet the ripples left by the heavier one will last a bit longer before it too is carried away.
Think of a longer ad that gets it right and a shorter one that also gets it right in that sense, then juxtapose that in the context of the world we live in, where a news cycle however grave rarely lasts longer than 48-hours.
The world will only give your brand as much attention as the quality of your ad commands.
The art of staying in memories long after a news cycle is up
All the best adverts – like Trophy's 'Na who stand by you be your Honourable', Nike's 'Just Do It', or Gilette's 'We Believe: The Best Men Can Be – have one thing in common that most ads miss; a story with heart. This heart is the weight that leaves ripples long after an advert has finished its campaign run.
You see these ripples in increased customer base and loyalty, and an increased valuation as in the case of Nike.
It is also these ripples that leave viewers marveling at the pull a 2+ mins ad had on them weeks or years after they first watched it, and an actor tweeting about how emotional it was to play the character because the story meant as much to him as it appears it did to viewers.
Trophy's ad has already garnered over 200, 000 views on the brand's YouTube page, by contrast, the page has just over 300 subscribers.
"This is the best ad I've seen, to be honest," a commenter wrote on YouTube, "connected with it instantly."
The actor, Akeem Ogara, felt the same way about it.
"It reminded me of how I borrowed almost everything to look good for interviews after my National Youth Service," he said, "after I got the job I became the go-to friend for borrowing suits and shoes every time my friends had an interview."
"It is a great ad," he said, precisely because, "it is very believable."
You instantly connect with it.
Will he become a raving fan of the brand after watching it? He will certainly pop Trophy next time he drinks if he didn't before, he said. And the 26 comments under the ad on YouTube – all persons who watched the ad elsewhere then traced it to the brand's YouTube page – also have the feel of raving fans.
The art of holding and keeping customers' attention with ads is not entirely a matter of catchy tunes or short and sweet presentations.
What is the heft in your story? Who is writing that story?
Nigerian brands can benefit from a look into their advert development strategy.